SAP version used in this post:
SAP ERP Central Component (ECC) 5.0
If you don't know what a
Sales Document Type
is, you may want to start
here
[sap123.com] first.
Order Types represent business scenarios and are mostly selected by the user when creating the sales document.
Sales Document types are configured at:
IMG:
Sales and Distribution > Sales > Sales Documents > Sales Document Header > Define Sales Document Types -- transaction VOV8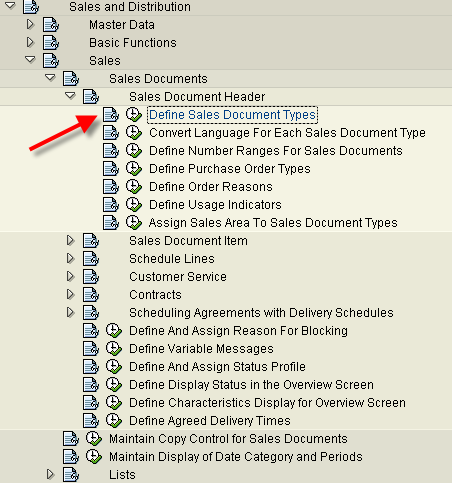 Lets look at settings for Order type OR (Standard Order).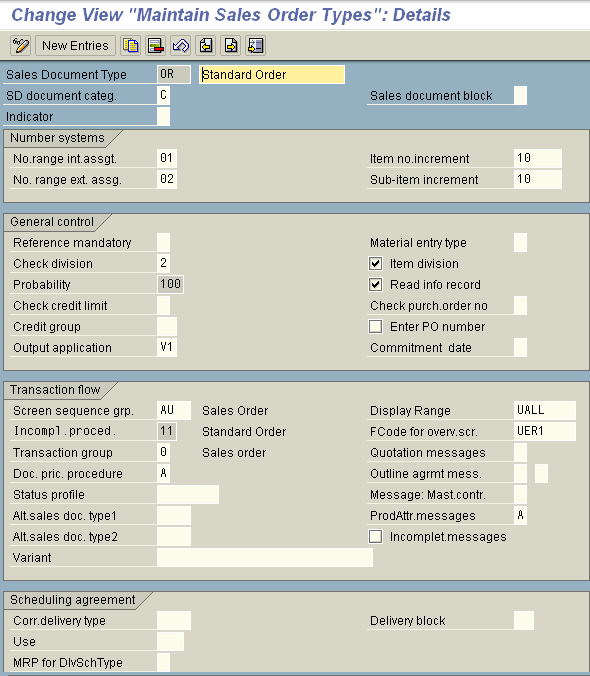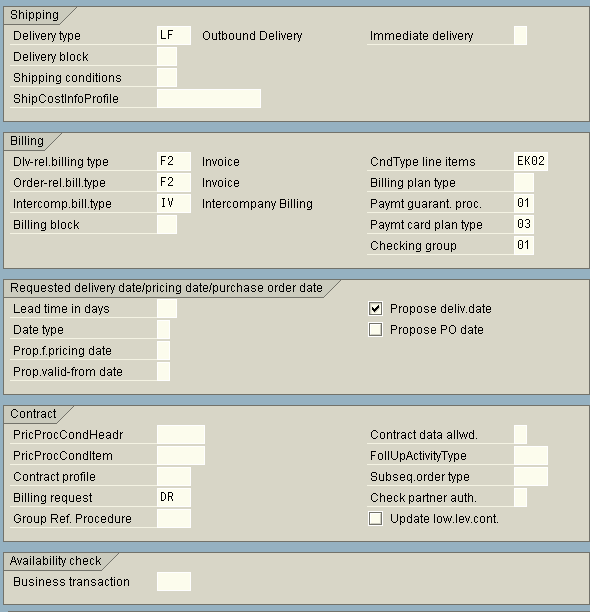 The following document types are available in a standard SAP system for use:
01 - Cust.Independent Req
AA - Promotion Order
AE - Qtn from Serv. Order
IN - Inquiry
QT - Quotation
AP - Project Quotation
AR - Repair Quotation
AS - Service Quotation
SI - Sales Information
AV - Quotation f.Contract
B1 - Reb.Credit Memo Req.
B1E - Exptd RebateCredMemo
B2 - Rebate Correctn Rqst
B3 - PartRebSettl.Request
B3E - Exp.PartRebSettl.Req
B4 - Reb.Req.f.Man.Accrls
BIND - Indir. Sales Rebate
BK1 - Agrmt Cred.Memo Req.
BK3 - Agrmt Cred.Memo Req.
BM1 - Agrmnt Deb.Memo Req.
BM3 - Agrmnt Deb.Memo Req.
BV - Cash Sale
CH - Contract Handling
DHU - SlsDocTypeDelyHUmvmt
DL - Order Type Sched.Ag.
DLR - Ord.Type Returns Del
DZL - Dec. Dely Order Type
ED - Issue by Ext. Agent
EDKO - Correction f.ExtAgnt
CR - Credit Memo Request
G2WT - Credit Memo Req. Val
GK - Master Contract
KA - Consignment Pick-up
KAZU - ConsignPick-up CompS
KB - Consignment Fill-up
KE - Consignment Issue
FD - Deliv.Free of Charge
CQ - Quantity Contract
SD - Subs.Dlv.Free of Ch.
KR - Consignment Returns
KRZU - ConsignReturn CompS
DR - Debit Memo Request
L2DM - Expense DebitMemoReq
L2DP - Expense:Payment Req.
L2WT - Debit Memo Req Value
LA - Ret.Packaging Pickup
LK - Sched.Agreement ExAg
LN - Ret.Packaging Issue
LP - Scheduling Agreement
LV - Deb.MemoReq. f.Ctrct
LZ - Sched. Agr. w/ Rel.
LZM - SchedAgrt w/Dly Ord.
LZS - SA:Self-bill w/Inv.
MAKO - Dely Order Correctn
MV - Rental Contract
NL - Replenishment Dlv.
PLPA - Pendulum List Req.
PLPR - Pendulum List Ret.
PLPS - Pendulum List Cancel
PV - Item Proposal
RA - Repair Request
RAS - Repairs / Service
RE - Returns
RK - Invoice Correct. Req
RM - Delvy Order Returns
RZ - Returns Sched.Agrmnt
SO - Rush Order
OR - Standard Order
TAF - Standard Order (FPl)
TAM - Delivery Order
TAV - Standard Order (VMI)
TSA - Telesales
WA - Rel. to Value Contr.
WK1 - Value Contract- Gen.
WK2 - Matl-rel. Value Cont
WMPP - WM Prod.Supply
WV - Service and Maint.
Notes:
1. This list differs between SAP versions.
2. As a guide, the most common document types are marked with
bold
.
A client will only use a few of above depending on requirements.
Mostly copies are made of those being used. For example copy Order Type OR to ZOR. This way one can make changes to ZOR while still keeping the original configuration of the basic order types.