SAP123 » Default GL account in account assigned Purchase Requisition
Willem Hoek on Jan 11, 2013
SAP version used for this post: SAP ECC (ERP Central Component) 5.0
When creating a Purchase Requisition, it is possible to default a GL account based on Material group. This is set in configuration:
IMG: MM > Purchasing > Material master > Entry Aids for Items without an material master

The GL account itself is link to the Valuation class in T030 (tcode omwb)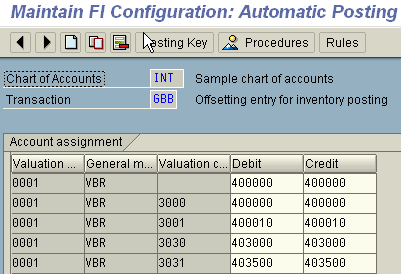 If the 'Entry Aids' (default valuation class per material group) is not found, one can also set a default GL account in T030 by leaving the Valuation class blank. Example is first row sample above.
Edit